​Welcome to the Canton High School Thespian Club Website!
The Canton High School Thespian Club is open to all students in grades 9-12 at Canton High School in Canton, Illinois. Activities throughout the year include a straight play, a musical, our Spook Trail fundraiser, and club trips and workshops. In the fall, the club elects four officers to represent the club: president, vice president, secretary, and treasurer. These four student leaders take on duties that support the productions and spur the growth of the club as a whole. These officers also serve as officers for our International Thespian Society troupe.

Students involved in our productions not only learn performance skills, but also have the opportunity to learn skills in lighting, sound, costuming, make up, props, set building, and set painting. All club members are invited to be involved in productions, even if they are not cast. Participation in club events and productions can earn students points toward induction and honors in the International Thespian Society, the honor society recognizing student achievement in theatre arts.
---

​

​Photo (above) features Brandon Mortland ('18) as John Proctor and Bella Jarvis ('20) as Elizabeth Proctor in our 2017 production of The Crucible. See our "Stage Pictures" page for full production stills.

Photo (right) features Brandon Mortland ('18) as Edward Bloom and McKenna Churchill ('20) as Sandra Bloom in our 2018 production of Big Fish. Full production photos of this production will be uploaded to our "Stage Pictures" page soon.
---
Announcements

Congratulations to the cast and crew of "Radium Girls" for a successful run!

Read the review of the show from the Canton Daily Ledger by clicking the button below.


Upcoming Events

Stay tuned for information on a possible acting class/workshop opportunity and the announcement of the Spring Musical!


​
Everyone Loves A Good Meme....

Memes are everywhere online and a fun source of humor or inspiration -- and not even the theatre world has gone untouched by meme creation.

​Just for fun, check out some of our favorite theatre memes that are far too true for us thespians!

All images are the property of their original creators.
​No copyright infringement is intended.
Powered by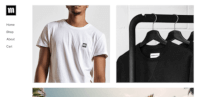 Create your own unique website with customizable templates.